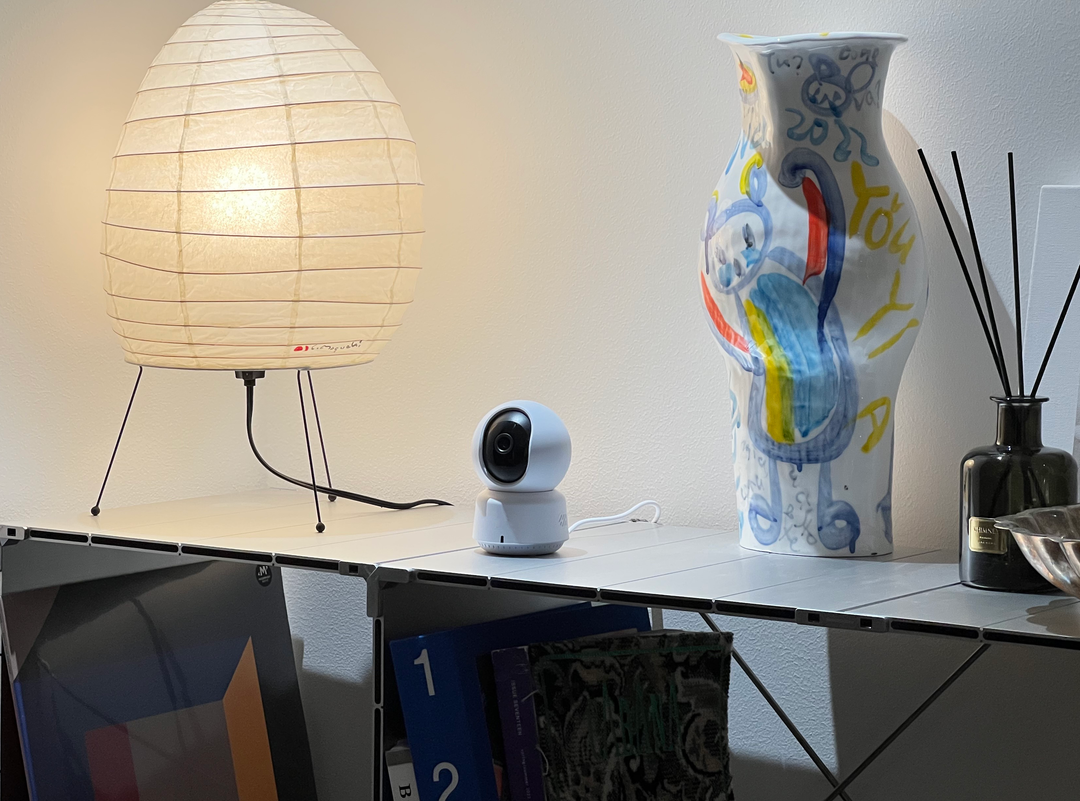 Aqara Camera E1
Regular price
Dhs. 299.00
/
---
In stock, ready to ship

Inventory on the way
*******Aqara Zigbee Hub required.

Smarter vision for a safer home.
The Camera E1 is an affordable yet future-proof camera with a focus on smart home automation capabilities and ecosystem support. It features the latest networking technologies such as Wi-Fi 6, and greatly reduces false alerts by incorporating a built-in local AI-based person detection and tracking that reduces false.
Compatible with Apple Home, etc.:

Camera E1 integrates with third-party ecosystems like Apple Home, Google Home, and Amazon Alexa. It supports Apple HomeKit Secure Video, ensuring private analysis and encryption of captured videos on your home hub devices (Apple TV or HomePod) and secure iCloud storage*. With an iCloud+ subscription, access the last 10 days of activity from one or more cameras.

A Clearer, More Natural Picture with PT:

Capture every detail in stunning 2K ultra-high definition. Monitor real-time events in front of the camera at any time. Ensure the safety and well-being of your children, or check if they require assistance or are facing any issues. It also includes two-way audio communication and night vision capabilities. Even in large areas, you can still use the PT (pan and tilt) function for tracking and recording, with a 360° viewing perspective. Everything becomes convenient and reassuring.

Upgrades in Privacy Protection:

E1 has a privacy mode that can rotate the camera to a specified position, and the user can customize the rotation angle, and disable the camera. You can also hide specific areas from the frame. For the first time, the E1 introduces a feature to disable audio recording or turn off the microphone, either manually or through automation. Additionally, the E1 offers support for WPA3, enhancing security to better safeguard your privacy and reduce potential vulnerabilities.

24/7 Recording**& Multiple Storage Methods:

24/7 recording helps you check on your home at any time, providing you with peace of mind around the clock. However, you need to insert a Micro SD card (not included). You don't have to worry about long-term recording causing video storage issues, because you can choose between an SD card or paid cloud storage based on needs (with one day of free use***). Multiple local or cloud storage options give users a more diverse range of choices, removing limitations.

Local Person Detection in Automations****:

The E1 can recognize human shapes and perform 350-degree tracking shots. What's more, it can still achieve integration with more smart devices based on Aqara's multicategory ecosystem through AI person tracking. For example, when the E1 detects someone in the hallway, it can trigger the lights to turn on*. When the door and window sensors on the front door detect an opening, the E1 will turn to a specific position for precise shooting.

User-friendly Installation and Setting: Thanks to the use of Bluetooth networking technology in MagicPair, the E1 connection is stable and efficient. Furthermore, it has obtained Wi-Fi 6 certification. The camera supports both horizontal placement and inverted installation, thanks to the 1/4-inch threaded screw attachment and screw-mounting base. And it utilizes a USB-C power interface.*****

Do Some Custom as You Like:

It supports up to 50 frequently used location presets, enabling 15-second time-lapse video creation and custom ringtone uploads. With power-off memory, you won't miss family moments after a power outage, plus it offers automatic return.
Disclaimers
* Home hub and subscription are required.
** 24/7 Recording requires Micro SD card.
*** 24-hour event cloud storage is included for free. Aqara paid membership (with a free trial available) can provide up to 30 days of event cloud storage.
**** Extra Aqara hub is required to achieve the automation.
***** Please note: the camera requires a 2A USB-A power supply, which is not included and should be purchased separately.
Automations:
1

Heading

Essential Insight into Everything in Your Home




IF THEN

IF Vibration Sensor is triggered, 




THEN Camera E1 Turns to the pre-defined position and Records video




Description

With Aqara's hubs and sensors, you can employ the E1 as a camera that does more than just unexpected break-ins while you are away. It's capable of recording vibrations, water leaks, and other conditions as well, offering you the information you need to respond effectively.




Devices

Camera E1 + Hub + Sensor

2

Heading

Expose the full Camera E1 functionality to HomeKit, Alexa, and Google Home




IF THEN

IF A "Welcome Home" scene is triggered in Apple Home




THEN Aqara home scene switches the Camera E1 to Privacy Mode




Description

Thanks to the Aqara Home scenes that can now be exposed to HomeKit, the E1's Privacy Mode, Pan/Tilt and other functionalities can be triggered by third-party automations!




Devices

Camera E1 + Apple HomePod

3

Heading

Nighttime Convenience for the Elderly




IF THEN

IF Camera E1 detects a person, 




THEN Set LED Strip T1 to static Tunable White effect




Description

This automation eliminates the need to fumble for switches or manually turn on lights or lamps at night, allowing the elderly to comfortably drink water or visit the bathroom with ease and safety. The soft, adjustable lighting is easy on the eyes, preserving sleep quality, while the smart detection ensures energy efficiency by activating the lights only when needed.




Devices

Camera E1 + Hub + LED Strip T1

4

Heading

Turn on/ off full privacy mode




IF THEN

IF Door Lock U100 is opened with an authorized fingerprint,




THEN Camera E1 switches to privacy mode.




Description

This use case fully considers user privacy. When people return home, Camera E1 stops recording.




Devices

Camera E1 + Hub + Door Lock U100*

* Mainly sold in North America, Southeast Asia and Australia,etc.
Specifications:
| | |
| --- | --- |
| Product Name | Aqara Camera E1 |
| Model | CH-C01E |
| Video Coding | H.264 |
| Ports | USB-C |
| Video Resolution | 1296p |
| Input Power | 5V⎓2A |
| Viewing Angle | 101° (diagonal) |
| Wireless Protocols | Wi-Fi IEEE 802.11 b/g/n/ax 2.4 GHz, Bluetooth 5.2 |
| Dimensions | 69 × 69 × 104 mm (2.72 × 2.72 × 4.09 in.) |
| Operating Temperature | -10 °C ~ 45 °C (14 °F ~ 113 °F) |
| Operating Humidity | 0 ~ 85% RH, no condensation |
| Local Storage | micro SD card (not included). CLASS 4 or above is supported, up to 512 GB storage |
| What is in the Box | Camera E1 × 1, User Manual × 1, USB-A to USB-C Cable × 1, Plastic Base × 1, Screw Kit × 1 |
Ships the next business day once order is placed.